San Antonio Residential Roofing Company
Your roof is an essential part of your home. If it gets damaged or broken, that can cause catastrophic damage to the rest of the house.
Luckily, you don't have to deal with roofing problems alone. Just turn to a trusted San Antonio residential roofing company like DV Roofing and Remodeling.
Why Work with a Professional Roofing Company?
With the rise of DIY home shows and handy YouTube tutorials, you may be tempted to try and repair or replace your roof yourself. That kind of can-do attitude is certainly admirable, but it's also misplaced in the case of roofing.
If you try to do your own roof repairs or replacements, the final result could be below the necessary quality standards. In that case, your roof (and your whole house) would be vulnerable to the elements.
There's also the issue of safety to consider. You could easily fall and injure yourself while working on the roof. Is doing your own roof work really worth the risk to your health and safety?
Working with a reliable San Antonio residential roofing company eliminates those risks. You'll have professional, high-quality roofing work that you can count on.
For even greater assurance, most professional roofing companies offer warranties on their roof repairs and replacement. That means that if anything covered by the warranty fails within the allotted timeline, you won't have to pay anything to have it fixed. It's peace of mind you simply won't have if you try to do your own roofing work.
How to Choose a Professional Roofing Company
Once you decide to work with a professional roofing company for your roofing needs, the next step is choosing which company to hire. There are probably lots of roofing companies in your area, so you need some methods for choosing the best one for your job.
The first thing to keep in mind is the difference between an independent contractor and an actual roofing company. Working with a roofing company is often the better idea because a team of people will be able to complete the job much quicker. You're likely to get a better deal and a warranty that might not be available with an independent contractor.
Next, you'll want to make sure that the roofing company you choose has strong references (check online reviews to get an idea), is experienced, insured, and has a license to operate in your area.
Which company you hire may also depend on what kind of roofing work you need completed. Different roofing companies offer different roofing services. If you need a roof inspection, for example, make sure that the companies you are considering offer this service. 
For a San Antonio residential roofing company that ticks all these boxes, look no further than DV Roofing and Remodeling. We have years of experience in the roofing industry and stellar customer reviews because we value quality and customer service above all else. Contact us today to learn how we can help solve your roofing problems!
Cities & Neighborhoods We Service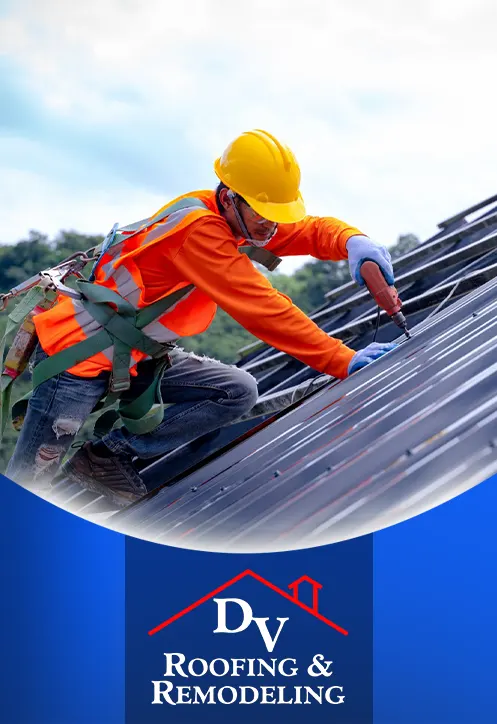 Get To Know More About San Antonio , TX
Interesting Facts
San Antonio is home to the most visited attraction in all of Texas, The Alamo!
Fiesta San Antonio is the city's biggest and most attended festival. It happens every April and has done so since 1891.
San Antonio is home to the 750-foot tall Tower of the Americas. It can be seen from anywhere in the city, and is located in HemisFair Park and was opened in 1968.
Notable Residents
Tim Duncan – Athlete
Tommy Lee Jones – Actor
George Strait – Country Singer/Songwriter
Nearby Suburbs
Timberwood Park 
Alamo Heights 
Shavano Park 
Public Transportation
VIA Metropolitan Transit – provides public transportation to the Greater San Antonio Region and is unique among its Texas peers in that it covers a large service area, serving a population that is socioeconomically disadvantaged, reporting low incomes and high reliance on public transit.
We take pride in perfection; pride by producing a first-quality product in a highly efficient and cost-effective manner.
David Violette, the owner, personally took the time to go over the bid with us. His crew showed up on time, and they were very courteous and polite. They were... read more constantly cleaning up debris throughout the roof installation process. They worked until sunset the first day, and they were finished by 1:00 the second day. Bryant, the site manager, was stellar! They even covered our neighbor's truck with a tarp to prevent any damage to it from falling debris. I would highly recommend this company!

Jan Russell


April 3, 2021

David Violette, very kind considerate and honest. Arrived on time. I had called him for roof inspection and quote on exterior painting. While talking to him , I told him... read more my back door was stuck and I was having issue opening the door. With no hesitation he offered to take a look at it and was able to repair the door. I am so grateful and honored , been a while since I have met an honest hard worker. It was a pleasure meeting David and David Jr. Keep up the great work. Sincerely, Patrice Michalczak.

Cynthia Hinojosa


March 14, 2021

David and his crew did an outstanding job. Very professional, clean, organized, and great job. David also did a very detailed review of total damage to my property, and worked... read more directly with my insurance company to make sure they covered all damages they didn't have on the original assessment.

Kimball Family


April 28, 2021

From the initial meeting with David Violette, owner, thru the installation with Bryant and the crew of roofers, they were all professional, courteous and helpful. David explained his companies... read more record, expertise and processes very clearly. Bryant and crew displayed these same qualities and were quick to explain what they were doing and were very courteous and professional.

Ronjanet Demeyer


July 1, 2021

DV roofing was awesome to work with. David's whole team is very courteous, and professional. Site manager (Bryant) was always there ready for any questions or concerns. DV roofing did... read more an outstanding job and would recommend them to anyone.

Rico A


April 24, 2021

Thank you DV Roofing for coming to my home on short notice to repair my roof damage caused by high winds. David was kind enough to proactively inspect my entire... read more roof for potential damage caused by hail and recent winter storms in which he found no additional damage. He took time to explain that sometimes there are damages not always visible, but in his observation our roof only needed a minor fix, which he took care of on the spot. We recommend his company to anyone needing roofing repairs and we appreciate his professionalism and will not hesitate to use his services again if needed. Thank you David, Gilbert Silva

Mary Silva


March 14, 2021